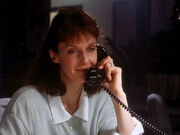 Connie Bates
is the wife of 
Norman Bates
.  
Childhood
Edit
Marriage to Norman
Edit
At an unknown time, Connie married cured murderer Norman Bates and became pregnant with his child. Fearing that his child would carry on the insanity that had plagued his family for so long, Norman eventually fell victim to his own mental illness and decided to kill Connie and the unborn baby. However, Connie saved him by convincing him not to. Norman then burned down his childhood home, ending the nightmares of his mother Norma Bates, and lived a good life with Connie and their child.
Ad blocker interference detected!
Wikia is a free-to-use site that makes money from advertising. We have a modified experience for viewers using ad blockers

Wikia is not accessible if you've made further modifications. Remove the custom ad blocker rule(s) and the page will load as expected.