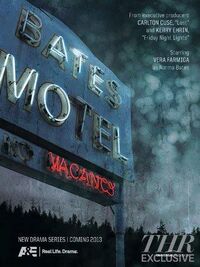 Inspired by Alfred Hitchcock's "Psycho," "Bates Motel" is a contemporary exploration of the formative years of Norman Bates' relationship with his mother, Norma, and the world they inhabit. Fans will have access to the dark, twisted backstory and learn first hand how his mother, Norma, and her lover damaged Norman, helping forge the most well-known serial killing motel owner in history.
What did you think of Bates Motel (2013-2017)?
Ad blocker interference detected!
Wikia is a free-to-use site that makes money from advertising. We have a modified experience for viewers using ad blockers

Wikia is not accessible if you've made further modifications. Remove the custom ad blocker rule(s) and the page will load as expected.